The next instalment for Glug London over at the beautiful Shoreditch Townhall.
The evening started out with Professor Andrew Chitty who leads the UK government's largest investments into the Creative Industries. Editor Eliza Williams, advertising industry legend Sir John Hegarty, Jaguar Director of Design Ian Callum, M&C Saatchi's Worldwide Head of Culture & Inclusion Sereena Abbassi, Katherina Tudball Creative Director over at branding agency Superunion.
For this instalment, I decided to book off half a day from work to be able to get to the event early so I didn't miss out on the amazing tech in the innovation lounge from 3.30pm.
The tech on the show was:
Cute Circuit – Sound Shirt Demonstration – You know the T-shirts in the markets that light up to the sounds around you basically this guy had an app that controlled the sound displayed on the T-shirt. Reminded me of T-shirts sold in Cyber Punk in Camden.
Mativison – VR Gig experience – I was unable to see this one because I was volunteering and handing out the free booze (One for me one for you)! But if I were to create a VR experience I would create a Rock Star experience. Where you're on stage but you also have 7.1 surround sound headphones so you can feel through sound and experience the atmosphere. But also what would be amazing if you could smash up your guitar or any musical instrument for that matter. I wouldn't recommend stage diving.
Maze Theory – VR gaming experience – This stand was next to me where I was handing out beer and the people who were working the stand were both lovely. Unfortunately, because my hands were tied I had to stay put but I got to see the people experience the game themselves. They all looked like they enjoyed themselves.
Last but not least Fontsmith ran a workshop called letter lab – Competing to win a year's Adobe CC subscription fellow Gluggers had to create a letter and submit the design. Please see below some of the images from the event. Please note I do not own these images.
About Fontsmith: Fontsmith is a leading boutique type foundry with a complete font design and production service. Founded in 1997 by Jason Smith and known for creating fonts with a distinctively human character, Fontsmith is a truly international team of designers working from a studio in central London.
UK Research and Innovation (UKRI) is the national funding agency investing in science and research in the UK. Operating across the whole of the UK with a combined budget of more than £6 billion, UKRI brings together the 7 Research Councils, Innovate UK and Research England. Professor Andrew Chitty leads the UK government's largest investments into the creative industries.
This is a great opportunity for creative innovators to get funding for their dream projects. Its interesting the tech thats out there and the innovation and what technology can do for society like practising hospital surgery, education, games and so much more. The way in which we use and play with new technology is exciting. Above I talk about the VR experiences which were showing downstairs in the innovation lounge. As mentioned but if I were to create a VR experience I would create a Rock Star experience. Where you're on stage but you also have 7.1 surround sound headphones so you can feel through sound and experience the atmosphere. But also what would be amazing if you could smash up your guitar or any musical instrument for that matter. But I think VR will grow to become the gaming experience of the future. But also creating unique experiences like being able to immerse yourself within museums, galleries or visiting your holiday destination and much more.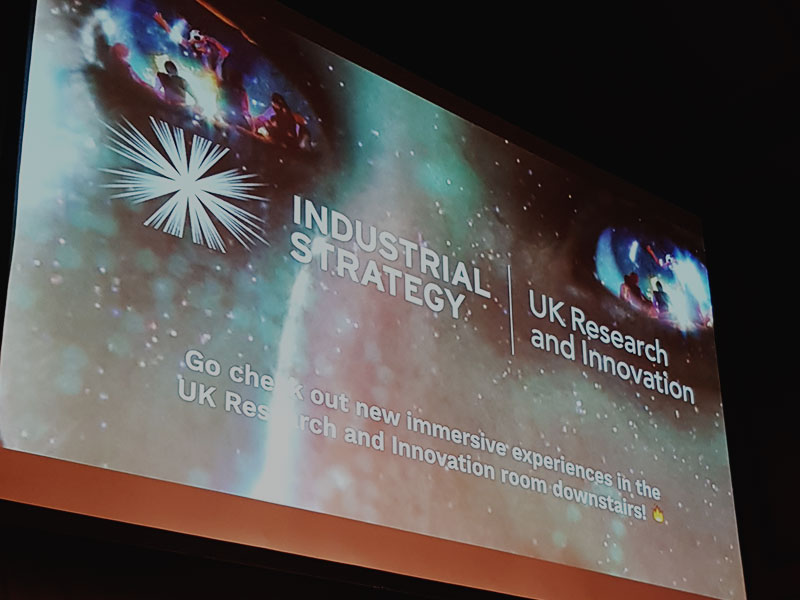 Eliza is Managing Editor at Creative Review.
She speaks about the journey of Creative Review from start to now. Also discussing the dynamic and turbulent world of design. Eliza spoke about how CR before the digital age and how it has developed into the online world. But with the difference between print and digital magazine is that print is based on subscribers however with digital its more about clicks and to bring an audience in so the advertisers are happy. Creative Review has a Pay wall which is ultimately a subscription service so you're able to see the articles that Creative Review post.
For more on Creative Review visit: Creative Review
Full talk of the evening below:
https://www.pscp.tv/glug/1lPKqoWPgreJb
Jaguar – Ian Callum
Ian Callum is the Director of Design for Jaguar since 1999 and helped develop the DB9 and also awarded the title of Royal Designer for Industry from the RSA. Also receiving the highest accolade by the Charted Society of Designer lifetime achievement in design. Named as the most influential person in UK design today by The Drum. Ian stated that he started designing cars from the age of 3.
Safe to say Ian Callum is a design genius. At the start of his talk, he mentions that he started off designing steering wheels and moved on from that because he found it boring. Well, if you want to get into designing cars start with steering wheels. Maybe that's the key to Ian's success.
Anyways he makes some very interesting points about every design should be amazing and fascinating if not then it has not been designed properly. I do believe this to a certain extent however, design can be very subjective and what one might consider being amazing and fascinating could look like garbage to someone else. Just take 80's architecture of mass-produced houses, someone must've thought they were great and built them all over the UK. But looking at them now is a complete eyesore and I think the majority would agree.
He spoke about Jaguars next electric car or 4×4. He says that the future of electric car design will be a gift to car designers because of the freedom of design. He spoke about the electric skateboard and having the freedom to design because theres no clunky engine etc etc…
Sir John Hegarty has been a legend in the game of advertising for over a whopping six decades. He was a founding partner of Saatchi and Saatchi in 1970 and TBWA in 1973. He also founded the agency Bartle Bogle Hagarty (BBH) in 1982. That agency now has 7 offices around the world. BBH has recently been in the news because they are getting taken over by France's Publicis Groupe for a whopping value of £200million.
He was awarded a Knighthood by the Queen in 2007 as well as received many other accolades for his work over the decades.
He reminds me off a rockstar that's full of charisma and can engage the crowd with his talking. He was born and grew up in North London. He said that creative people are outsiders. Which I think to me is a true statement. We do tend to look into the world and see it in a different light. I myself have felt like an outsider. I believe my upbringing has been somewhat different from others and It's shaped me to who I am today.
He talks about failers as not being a problem but learning from those failers and growing. He mentions that go for the opportunity and not the money but I believe you need to have a good eye and trust your instincts and you need to believe that the opportunity will be right.
His life journey has been amazing and if you haven't yet go and watch the talk from the link: https://www.pscp.tv/glug/1lPKqoWPgreJb
Katherine is an award-winning designer with over 15 years of experience in the design world. She worked as a team with University colleague Julia Woollams at Johnson Banks for over a decade. In 2016 she joined The Partners and leads an agency team called Superunion as a Creative Director.
Katherine starts off by covering off 2 Topics Audience Commerical Project and Death Personal Project. With both projects overlapping.
Katherine's work for the re-brand for BBC 2 was a great insight into Katherine's creative process. The idents are so much fun and very creative showing off a wide variety of designs to replicate the vast variety of television that BBC 2 has to offer. When you see the videos they are beautiful and well executed. To be able to pull off this project was tough because she had to collaborate with many designers and put together the project. It is great how each ident has a different mood for leading to each program. The process in which Katherine showed is beautiful and told such a beautiful story. This is what I love about design. It's not just about the final results but it's about the journey.